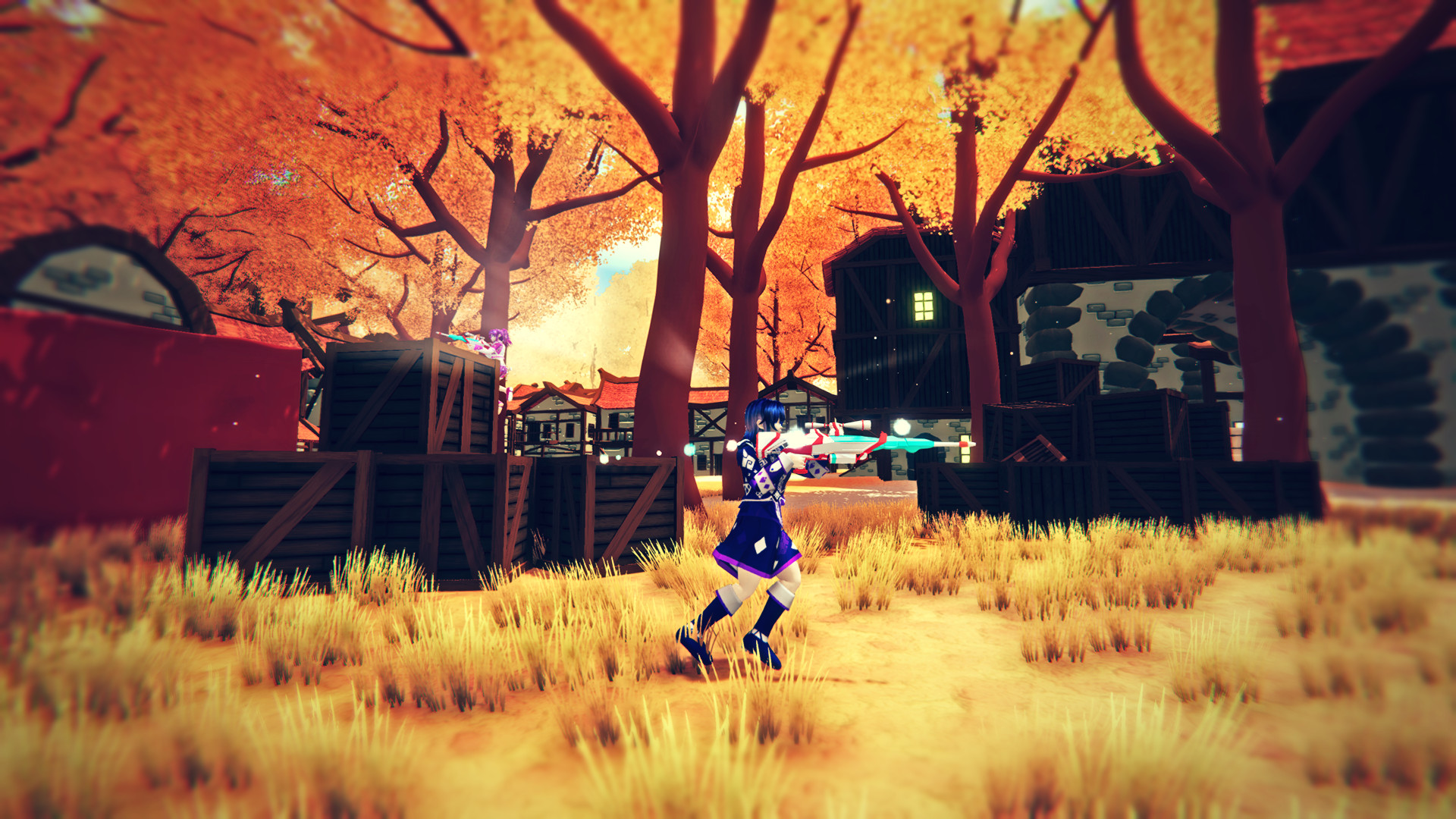 Trianga's Project: Battle Splash (Alpha + Demo)
A downloadable Battle Splash for Windows and macOS
(Early Access available on Steam now. Head to Battle Splash Steam Page to Play!)
Battle Splash is a violence-free, fast-paced, action-packed third-person shooter filled with water and splashes that everyone can enjoy together.

Take your water weapons and challenge with/against your friends. Feel the frenzy as water splashes from your weapons can accidentally wet your opponents, your allies, and even yourself! The aim of this game is to create a fun, intense, and exciting shooter with no need of violence. Everyone, regardless of ages, can enjoy Battle Splash as much as they can.
Players can choose one of 4 character classes with different traits and stats so as to bring variety of play styles. These classes are also equipped with a special items based on strength and advantages of the characters. Battle Splash also allows players to equip a set of 4 weapons with no restriction for more fun and frenzy experience. The game will also feature different game modes, providing more challenges to the skilled players.
Key Features:
An intense, fast-paced, action-packed third-person shooter filled with crazy water bullets and unpredictable splashes.
Master the game with your very own skills, with mechanics inspired from arena classics like Doom, Quake, and Team Fortress 2.
eSports-oriented designs for balanced and strategic gameplay, but with simple access to everyone: from casual players to hardcore gamers.
Battle Splash is an action shooter, but it doesn't mean that there will be blood and gore. In fact, "Violence" in this game will be more friendly to all ages.
Play it your way: Freely accessible water weapons for universal play styles, from traditional water balloons to futuristic water guns. But things can kick up to a notch with unique items for each girl to achieve total intensive.
Solo? AI bots ready on the go. Have some friends? Co-op to beat the bots. Have a party? Make a supersized water fight with 32 players on large playgrounds.
Alpha Features:
Two Large playgrounds: Medieval Town and Medieval Citadel.
Team Free-For-All game mode.
All characters and weapons are available.
Single-player and Online Multiplayer via LAN Internet up to 32 players.
Challenging AI bots for practice and comp-stomp.
Minimum System Requirements:
CPU: Intel Core i3 Sandy Bridge for Mobile
GPU: Intel Graphics HD 3000 for Mobile
RAM: 3GB
HDD: 1GB
OS: Windows XP 32-bit SP2 or later / Mac OS X 10.8 Mountain Lion or later
Keyboard & Mouse
Network card for Online Multiplayer
Development History:
Battle Splash is a Zero-budget project, solely made by its creator, designer and programmer: Mai Nguyen Binh Hung. He is also a co-founder of Dranya Studio, an independent video game studio based in Hanoi, Vietnam. The game is developed in 4 years and started as a small multiplayer prototype with partially completed mechanisms. Battle Splash itself is made with inspirations from water guns and classic shooters for an enjoyable experience for all ages. Currently, the game doesn't have the release date yet since the developer is still making more content.
If you're interested in Battle Splash, please share this game with your friends to get more people enjoy the pure fun of water fights. The more the merrier!
If you wish to share your Battle Splash's moment or just want to discuss more about the game, you can visit Battle Splash's Reddit here:
You can also support Battle Splash by subscribing on Patreon to improve the game:
Follow us on our splashy social media channels:
Bug Report:

//Update History:

//============================================
Alpha (ColdSummer v 1.664):

(Hot Fix) - Mac OS available

GUI: Fix Displaying Hosts, now all hosts are properly listed.
Audio: Added Customizable Music Player by putting audio files into correct folder (please refer to "Music\Readme - Instruction.txt")
//============================================

Alpha (WhiteSummer v 1.663):

(Please refer to the DevLog below for full Release Notes)
https://dranyastudio.itch.io/b...

Added Online Multiplayer Features
Added New Map: Medieval Citadel (2nd)
New Environment Mechanic: River
...and more Improvements, Changes, Bug Fixes.
//============================================

Pre-Alpha 2 (Nex Gen v 1.657) Release Notes:

Information:

Name: Battle Splash Pre-Alpha 2
Build Alias: Nex Gen Pre-Alpha
Version: 1.657
Improvements:

AI: Improved AI's path finding to reduce AI gets stuck.
AI: Added Simple Adaptive AI, now they can evaluate player's performance and adjusted their behavior accordingly. It's still a WIP, but proved to be promising.
Animation: Added/Improved some animations for characters.
Animation: Hair now can be affected by Wind, for better visual feedback.
Audio: GUI now will play sounds.
Audio: Added Menu Music and Gameplay Music.
Audio: Added Simple Music Director. This system will adapt to player's performance in order to match the overall ambient of the fight.
Game Mechanics: Added some Camera Angles for Observing other player. Press "Space" ("Jump") while in Observe mode to change Camera Angle.
Network: Smoother network game. It's still a WIP but after some tests, it proved to be significantly better than the previous one.
Visual: Added motion blur for better visual feedback.
Visual: Retouched the Trail-effect of all Water Balloon for better visual feedback.
Visual: Retouched the Splash-effect for better visual feedback.
Changes:

Game Mechanics: Re-Balancing some weapons and characters' stats.
Game Mechanics: Increase the overall difficulty for the AI.
HUD: Changed Teammate Indicator and Wet Indicator. It should be clearer from now on.
HUD: Changed the HUD for better understanding the game's mechanics and improving performance.
Fixes:

Animation: Fix some "crispy" hair, expected to be smoother hair and better visual feedback.
Audio: Fixed some loud/annoying Footsteps.
Game Mechanics: Slower mouse movement for more precise aiming.
Graphics: Added DX9 Single-threaded Rendering Launcher for older Computer Rig (\w Intel Graphics Cards). Use this launcher to start the game in DX9 if it crashes.
Visual: Fixed and reduced Camera clipping.
Known Issues:

Gameplay: Spawning too many characters at the same time might cause FPS hiccup.
Graphics: DX11 might cause crashes for older system with/without Integrated Graphics Cards (Intel and such). If crash occurs, use the DX9 Launcher to start the game.
GUI: There are some problems with the scroll rect, but they are not really affecting the overall experience.
Network: When connecting to a server which has many players playing on it, the game might Not Responding for a long time. Please be Patient.
Start-up: The game might take a long time to load (Not Responding) the first time. Please be Patient.
| | |
| --- | --- |
| Status | In development |
| Platforms | Windows, macOS |
| Rating | |
| Author | Dranya Studio |
| Genre | Shooter |
| Tags | 3D, Anime, Colorful, Funny, Multiplayer, online, Singleplayer, Third Person, Third-Person Shooter |
| Average session | A few minutes |
| Languages | English |
| Inputs | Keyboard, Mouse |
| Multiplayer | Server-based networked multiplayer, Ad-hoc networked multiplayer |
| Links | Homepage, Steam, Support, Twitter, Patreon, Support |
Download
Click download now to get access to the following files:
Battle Splash Demo (FlyingDutchmanDemo v1.677)
304 MB
Battle Splash Alpha (ColdSummer v 1.664)
405 MB
Battle Splash Alpha (ColdSummer v 1.664) for Mac OS
397 MB